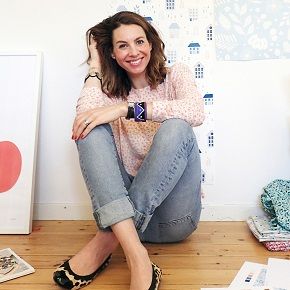 Hi!
My name is Cathy Nordström and I´m a surface designer and illustrator based in Stockholm. After working ten years as a graphic designer I finally decided to pursue my dream of adding surface pattern design and illustration to my skills. I now mainly work as a surface pattern designer and illustrator, but I love to take on the occasional graphic design job.
I´m crazy about vintage wallpaper and fabric and find much of my inspiration there. Given that many of my patterns are floral I find a huge amount of inspiration in nature and books about flora and fauna. When developing a collection I tend to start with a personal experience, whether it be a childhood memory or a recent trip to a new place. I love to draw and try to do it as often as possible, even if it´s only for ten minutes. A handful of motifs can result in a beautiful pattern!

My style is both minimalistic and maximalistic, if that´s even a word. I find that my Scandinavian heritage is constantly present, but I have a deep love for lush and extravagant patterns and fabrics. I like to think my style is a mixture of those two loves.