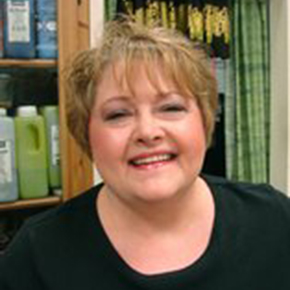 Lonni Rossi became interested in quilting in the late 70's, but didn't make what she considers her first "art quilt" until 1994. She won her first award in 1999 in the Paducah AQS show: a first place in the wall quilt category, titled "Cabins in the Cosmos." The quilt still hangs in AQS Museum in Paducah, Kentucky, USA.

Lonni has worked as a professional graphic designer for 40 years, and taught Design and Typography at Moore College of Art & Design and Drexel University. She was a co-founder of Art Quilt Elements (the former Art Quilts at the Sedgwick).

She has had one-woman art quilt shows in Munich and London.

Fusible elements, couching with unusual fibers, felting, Angelina fibers, metallic threads, found objects, and obsessive threadwork usually cover the surface of Lonni's quilts. She loves to explore new techniques to achieve textural surprises, not only in her quilts but also in the images and textures she creates for fabric design. She has licensed her unique designs to Andover Fabrics, Inc. since 2001.