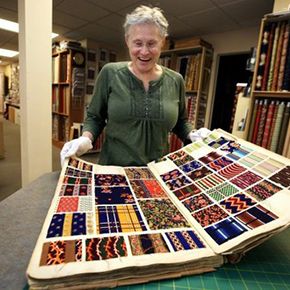 Margo Krager, owner of ReproductionFabrics.com, a website plus storefront located in Northfield, MN, has been a fabric retailer since 1984. She has spent over 20 years researching historic cotton printed and yarn-dyed fabrics used in quilts and garments, gives lectures on historic dye and print technologies and does hands-on workshops on Center Medallion Quilts.

Margo received a Bachelor's of Science degree in Medical Technology in 1970 from Michigan State University and worked in that field for 15 years. In 1984 she switched needles and became a fabric retailer. Since that time she has also done graduate level work in History at Montana State University, distance learning through the Quilt Studies Program at the University of Nebraska-Lincoln and published a professions paper, The Calico Trade Shirts on the Journey with Lewis and Clark, with the Textile Society of America.

Her design inspiration comes from the 9 antique fabric sample books she owns, 1830-1948. Her newest collection, Dargate Treasury, is from her c. 1830 Dargate book.